The Worshipful Company of Arbitrators' UK Mediation Skills Competition was a great success again this year. The prestigious event, the seventh of its type, was held at the International Dispute Resolution Centre in London over the weekend of 24th to 26th January 2020. It was open to law students, trainees and pupils from UK universities and colleges, law schools, law firms, inns of court and barristers' chambers. Teams were fielded by Kings Chambers, 39 Essex, Falcon Chambers, Linklaters, Osborne Clarke, TLT, University of West England, London Metropolitan and the Law School of Exeter University.
Students in each team, adopting the roles of counsel and client, sought to resolve a commercial dispute working with each other, their counterparty and an experienced mediator. Their performance was evaluated by a judging panel, including Margaret Bickford-Smith QC (Master of the WCA) and Sir David Foskett, retired High Court judge and Chairman of the Civil Mediation Council.
Pupils Nick Taylor, Arevik Jackson and Shaylla Shabbir, representing Kings Chambers, won the Best Mediation Advocacy Skills Award and the overall prize.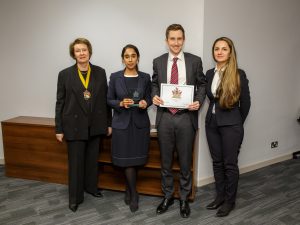 Exeter University, represented by Alex Dach, Archit Gupta, Roozmer Kianai Kayvan and Olivia Turley, scooped the prize for the Best University Team. We offer all participants our warm congratulations on the high standard achieved.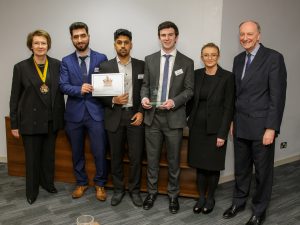 Special thanks are due to Nicola Cohen for her key role in organising the event. We look forward very much to our future arbitration and mediation competitions. Please check our website for updates.