There follows the citation for this award, presented at our Installation Dinner at Fishmongers' Hall on 24 October 2019.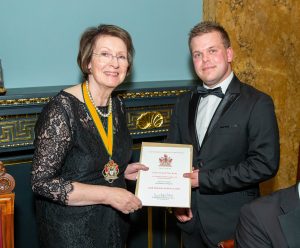 Colour Sergeant Peter Bexley epitomises all the core Values of the British Army, especially one of selfless commitment, being always ready and on hand to support any local unit struggling with staffing for the training to be delivered.
Colour Sergeant Bexley has through his own direct efforts increased the participation of cadets in shooting as well as track and field physical activities therefore taking on the responsibility for organising an inter detachment athletics competition amongst 21 different Army cadet units in the Summer.
Last autumn Peter identified an area in South London where there had been an Army Cadet unit a long time ago but sadly had been shut down due to manning, Peter approached his Commanding Officer that he would like to get it up and running so that the young people local to that area can have a unit of their own where they can go to, which his C.O obliged.
Colour Sergeant Peter Bexley has now been running this brand-new unit and so far, has twenty regular young cadets in attendance, worthy to note also that this unit is one of only three units that parade on two evenings a week in his case Tuesdays and Thursdays.
Peter's continuous dedication to our young people is simply astonishing. Therefore, this year's Adult Instructor award goes to the Detachment commander of 132 Detachment (LONDONS) Colour Sergeant Peter Bexley.