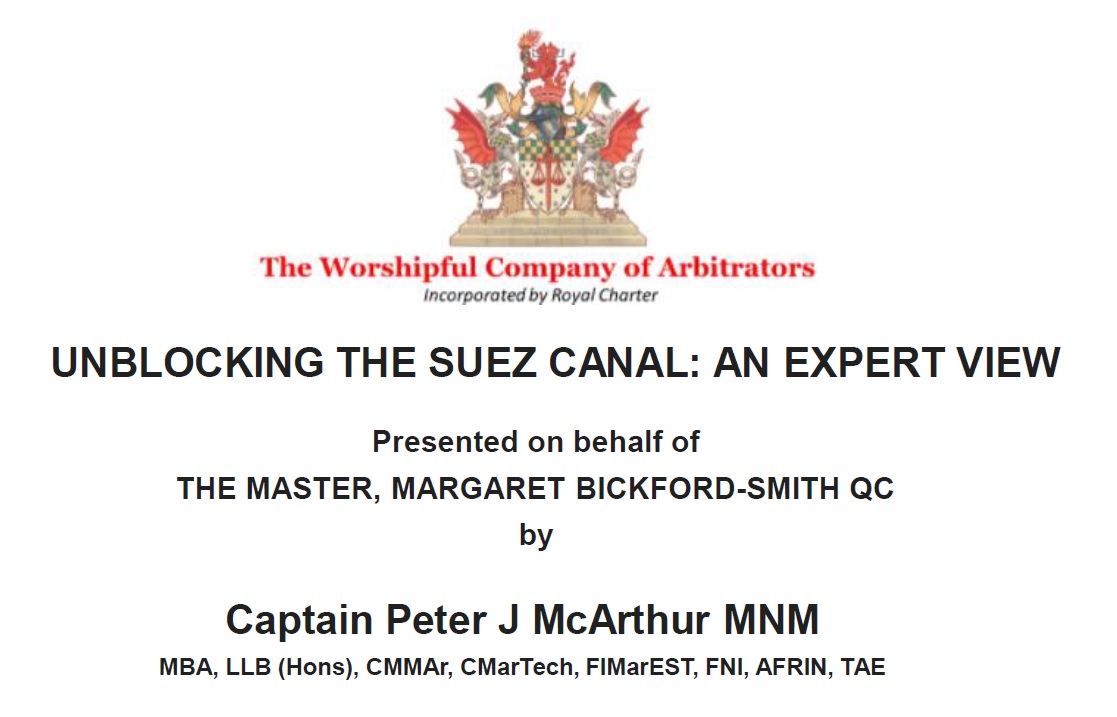 On Thursday 26th April 2021 Captain Peter McArthur gave a virtual presentation on the recent blocking of the Suez Canal.
The giant 400m-long (1,300ft) container ship Ever Given was wedged across the Suez Canal in Egypt, blocking it for a week before salvage crews freed her on 29th March. The ship is expected to make her way to a port in the UK once released by the Egyptian authorities who are demanding $916m in damages. The vessel is currently anchored in the Bitter Lakes. The economic and shipping problems caused by this worldwide will take much time to be worked through.
CAPTAIN PETER J McARTHUR MNM, MBA, LLB(Hons), CMMar, CMarTech, FIMarEST, FNI, AFRIN is a Freeman of the Company and as Senior Pilot for the Manchester Ship Canal, has unrivalled practical experience as well as a unique understanding of relevant technical issues. He is a globally acknowledged specialist in the fields of Marine Hydrodynamics and Practical Ship-Handling. His development of the science of molecular hydrodynamics into the marine environment and its impact on seafarer safety earned Peter one of the first Merchant Navy Medals for Meritorious Service. He is Founder and Director of Norwest Interaction and provides expert advice on shipping incidents to the Courts and technical support to Government Agencies. Peter is the series Editor for Lloyds Practical Shipping Guides and the World's first Chartered Master Mariner.
Peter explained the effects of hydrodynamics in the confined waters of the canal and how the pressures on the ship eventually caused her to lose steerage and run aground.
You can find Peter's slides here: UNBLOCKING THE SUEZ CANAL 22.04.21.