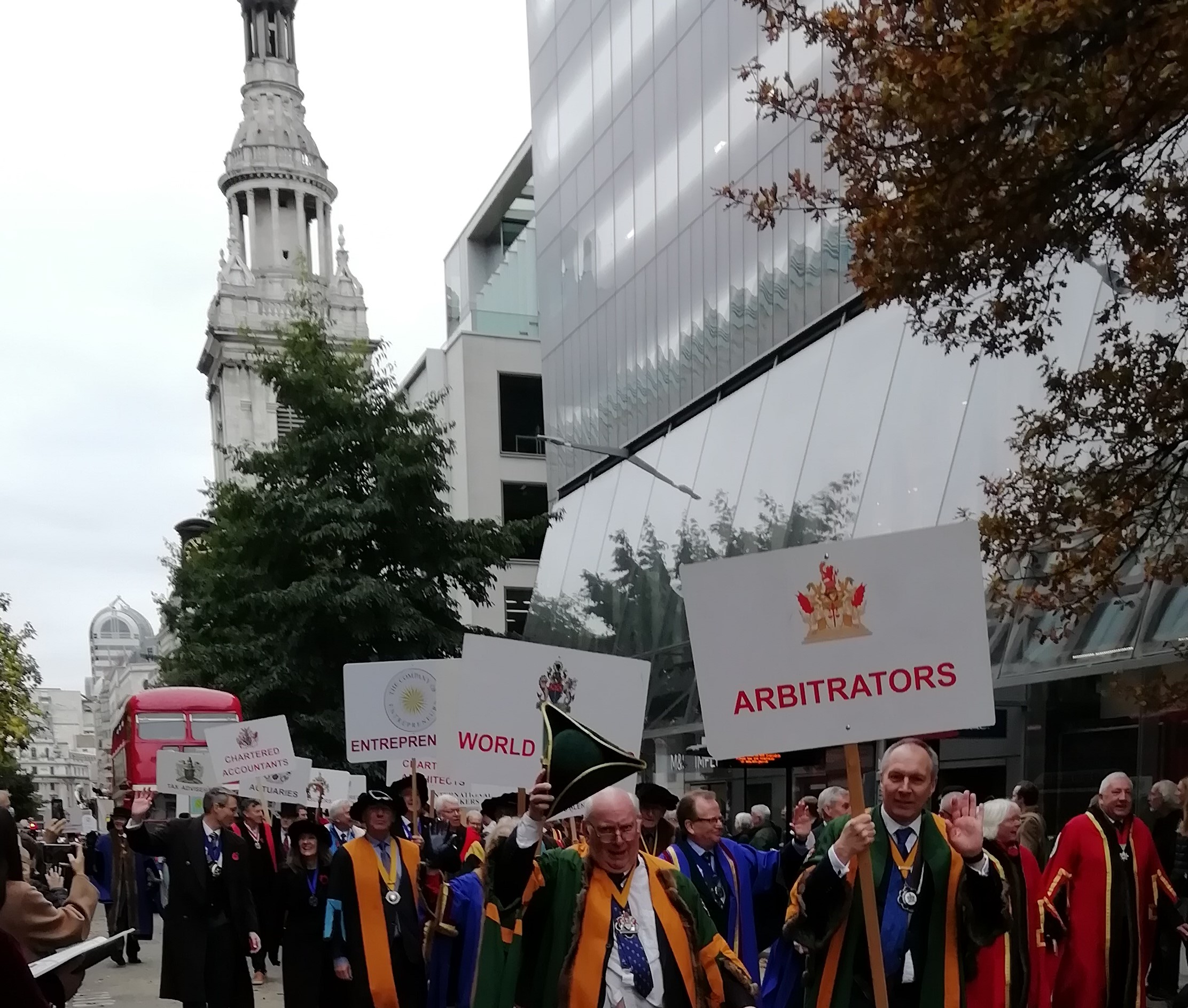 The 2021 Lord Mayor's Show, 13 November 2021
Preparations for the show started at 8:30am when I and our Junior Warden, Simon Underwood, collected our robes and headgear from Painter Stainers Hall. The City was eerily quiet with all the roads to be used in the show having been closed to traffic and crowd barriers set up. Assembly in London Wall with the other Masters and supporters of the Modern Livery Companies, just outside Plaisterers Hall, was our first chance to have an informal get together. Master Kathy Seddon from the Worshipful Livery Company of Wales, along with her supporters brought a smile to all our faces. There is a lot of waiting around before the parade gets going and Simon and I chatted to several attendees from the Firefighters, Horners, Engineers and a whole host more.
And then we were off. Being float number 9 meant we were near the front of the parade. The Parade formally starts at Mansion House and ends its outward route at the Royal Courts of Justice where the new Lord Mayor presents himself to the senior judges and attests his loyalty through them to the Sovereign.
When you are in the parade you do not hear the noise of the bands as you would as a spectator, but you must nimbly avoid the horse deposits on the road; you hear the crowds that line the streets cheering and blowing whistles. Doffing my tricorn hat seemed to get a cheer every time. As we approached the Bank of England two large scale helicopters and a C17 transport airplane flew over on their way to the Mansion House. And then we were off. I believe the Lord Mayor doffed his enormous tricorn hat in response to my doffing!
Going up Cheapside we spotted our Clerk and then Mistress Linda. The route takes you to St Paul's Cathedral, down Ludgate Hill, and then up Fleet Street to the Royal Courts of Justice. It is a short step from there to HQS Wellington where we were rewarded with a glass of bubbles and a sandwich lunch bag.
Simon and I left to return to Plaisterers Hall where we joined our supporters who for some reason had not started lunch yet alone completed it.
And then it was home to watch the recording of the Show and see that our Arbitrators' banner and I were fleetingly captured by the BBC. It is an incredible event in which we had the honour to take part.