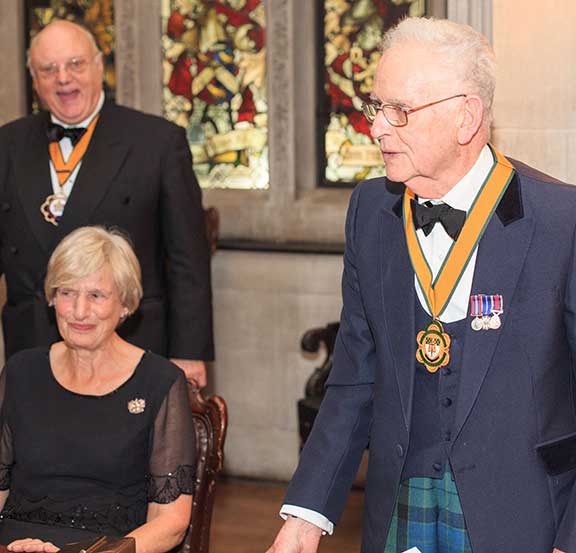 Past Master James Mackie (Master 1999-2000) passed away on 1st November 2016 as a consequence of injuries sustained in a car accident; the Company had been delighted not only to have marked his 90th birthday a month earlier but also to have seen him (accompanied by his longstanding companion, Ann Fitchett) at the Installation Dinner only six days before when he was presented, to enthusiastic acclaim and very warm applause, with his new-style PM's Badge to which he responded with a gracious and witty speech, his last public one after many decades thereof.
James, who had been resident in Haslemere for more than 40 years, had been a very much-loved and wonderful family man and he left four sons and a daughter, 15 grandchildren and four great-grandchildren.
A dedicated Scot, James was born in St Andrew's and was the son of the distinguished historian Professor John Duncan Mackie (Professor of History at Bedford College, London, then, from 1929, Professor of Scottish History and Literature at the University of Glasgow); he was brought up in Glasgow but went to a preparatory school in Cumbria, then to Charterhouse School and then to New College, Oxford, to read history where one of his tutors was Alan Bullock, later Lord Bullock. Curiously, given James' Mastership, he remembered attending the Lord Mayor's Show in the 1930s ! At school and university (ad in adult life), he was a fine cricketer, hockey player and cross-country runner.
James joined the Royal Marines in 1944 at 18 and was commissioned as an officer in 1946.
In 1947, while on demob leave, James met an ex-Wren, Daphne King (also on demob leave) and they married in 1951. Following a long illness, Daphne sadly passed away in 2004, nine days after their 53rd Wedding Anniversary. James had joined the Colonial Service in 1950, and was posted to Malaya in 1951, becoming Assistant Commissioner for Labour in the then Malayan Civil Service where he learned Malay, Cantonese and Hokkien (a South-Eastern Chinese dialect, the most widely spoken in SE Asia). His time in Malaya included the period of the communist uprising as well as considerable guerrilla activity and he also served in the Malayan Royal Navy Reserve. Post-independence in 1957, as a mark of Malaya's respect for his meritorious service to the country, he was awarded the decoration Ahli Mangku Negara ("Most Esteemed Order of the Defender of the Realm") but, as a foreign decoration, that required the permission of HM The Queen to wear it and that was granted.
---
1 The Almoner gratefully acknowledges the considerable assistance of Liveryman Barry Rose, a very long-term close friend and professional colleague of James, in preparing this Tribute; most of the factual material is taken from James' wonderful book "Memoirs of an expatriate Scot", privately published 2008 and revised 2015; ISBN 978-15177-1838-1.
2 Thanks are also due to PMs Russell, Dancaster and Davies for contributions and/or helpful suggestions and to the Honorary Archivist for providing documentation relating to James' year as Master.
---
On return to the UK, James first joined the BBC as Assistant Programme Organiser (Burmese/Vietnamese section) but remembered, even then, a PC climate and a left-wing bias which did not enthuse him; he next became Programme Organiser in the Malay/Indonesian Section.
Dissatisfied with the BBC, James did not stay long and applied for, and was appointed to, the position of Secretary of the Liverpool Cotton Association. Subsequently, he was offered the position of Secretary to the London Cattle Food Trade Association ("CFTA"), one of approximately ten similar associations including the London Corn Trade Association ("LCTA"). With James playing a very key role, the CFTA and LCTA merged to form GAFTA with effect from 1st October 1971 (his 45th birthday !) with his becoming the inaugural Secretary, later retitled Director-General, posts in which he served with great distinction for 20 years. He remembered delivering a paper to a CIArb conference entitled "Commercial Arbitration in the Commodity Trades". He also represented GAFTA on the London Chamber of Commerce and Industry at whose Centenary Reception in Guildhall (in 1978) he and Daphne had the honour of being presented to HM The Queen. During his GAFTA years, James travelled widely, visiting almost all major European cities and also the USA, Brazil, Argentina, Senegal, Niger, Ivory Coast, India and Thailand.
James retired from GAFTA in January 1991 having transformed it from a pair of minor domestic trade associations into a major international one whose contract forms, including GAFTA arbitration clauses, are used for a very high proportion of world trade in grains and feeds; by any measure, this was a truly enormous achievement and today, as we pay tribute to James, this is one mark of the measure of such a distinguished man.
In parallel with James' major contributions to the world of commodities arbitration, he had a distinguished career in local politics, inter alia serving as Chairman of his local Conservative and Unionist Association. He also served on Haslemere Town Council, including serving as Town Mayor in 1993-94, and he was elected a Borough Councillor in 1995, standing down in 2003, and as Town Councillor in 2010 (at 84 !). He also served with distinction on a lengthy list of town and other local committees.
One of James' major interests was in the Crimean War and a real highlight of the Royal Charter Banquet on 15th May 2012 was his engaging HRH Prince Michael of Kent GCVO in an intense conversation on that topic with HRH being the Senior Colonel of the 11th Hussars (whose predecessor regiment charged with the Light Brigade at Balaklava) while the predecessor of the Royal Marines, James' regiment, also fought in the Crimean War. During the Banquet, HRH spoke to the then Master in very warm terms about the encounter.
James joined the Company in the late 1980s and was admitted to the Livery on 6th April 1990 and, not long afterwards, he joined the Court and became Junior Warden in October 1997, Senior Warden in 1998 and, accompanied by Daphne and son Simon, was installed as Master at the Skinners' Hall on 20th October 1999; sadly, Daphne's poor health prevented her from attending more than a very few events in James's Year.
In that year James, as Master, moved the Company forward in a number of ways, the most important of which was to open it up to those involved in ADR/PDR in contrast to the previous restriction solely to arbitrators which restriction was threatening to stifle growth in membership. Inter alia, he wrote to more than 30 relevant institutions in London but 'received' a very disappointingly high percentage of non-response. Among the other innovations that he introduced was a Newsletter, initially a single page of typescript, and a proposal that the Company should have a website ….. Further, James believed that the Company's Carol Service at St Mary-le-Bow in December 1999 was the first the Company had ever held.
During James' year in office, Donald Valentine (Master 2006-07) and Barry Rose were admitted as Court Assistants and Dr Derek Ross as, first, Freeman, then Liveryman; see also below.
Wholly unsurprisingly, James' service to the Company was of the highest level of dedication and he attended Court as a non-Voting Past Master well into his late 80s, much of that time as the senior active Non-Voting Past Master. PM Victoria Russell, Junior Warden when James was Master, said "[In his year as Master,] his great love of Haslemere and Scotland frequently came to the fore as well as the justifiable pride he took in being our Master. He was a hardworking and very effective member of the various committees, setting high standards; he treated everyone fairly and with great charm." In 2006, the Company's Silver Jubilee year, James compiled an illustrated history entitled 'The First Twenty Five Years' and this work was an enjoyable review of facts and individual recollections and was published and distributed to all the then membership as a memento of the 25th anniversary of the Company's formation.
James was a great organiser of charity Burns Night Suppers in Haslemere with all the Scottish rigmarole (the Address to the Haggis, an Address to the Lassies (often some light-hearted comments about them by a male speaker) followed by a Reply to the Laddies (who get their own back); two longto- be-remembered Replies were by PN Victoria Russell and by Merida Drysdale (with whom (and the late PM Andrew) James was a very close friend).
Along with other members of the British Malaysian Society, James visited Malaysia in August 2007 for the 50th Anniversary of Merdeka (independence), accompanied by Ann Fitchett, formerly Senior Mistress of King Edward's School, Witley (with which, of course the Company has a long and close connection). Thereafter Ann accompanied James to Livery and Past Master's Association (he was a keen supporter of the Millennium Masters PMA) events and on several foreign tours and one of the most memorable of these tours was the Company's visit to the WW1 battlefields and cemeteries in 2015, ably led by David Wilson, the present Senior Warden, a tour that James treasured greatly. Without Ann's loyal support, James' meticulous and dedicated attendance record at Company (and other) functions (up to 25th October 2016, just after his 90th birthday) would not have been possible and we would all have greatly missed the pleasure of his company. The Company owes Ann considerable gratitude for her support.
Although living to celebrate his 90th birthday (surrounded by his large, adoring and adored family), James not only packed (as you have read above which only scratches at the surface) an extraordinary range of activities and achievements into his life but also remained urbane, charming, approachable and witty and a dedicated supporter of the Company until the very end. The Company has been hugely honoured and privileged to have had such a man amongst us and we will always remember him with gratitude, pride and the very highest of admiration. The phrase "we will not see his like again" has become clichetic in recent years but in James' case it applies … in the fullest sense.
James' "State of the Union" address, on standing down as Master, to the Company at Vintners' Hall on 24th October 2000 closed with a quotation (slightly altered3) from the Rubai'yat of Omar Khayyam:
"Think in this Gilded Caravanserai Whose Portals are Alternate Night and Day How Master after Master in his Pomp Abode his Destin'd Hour and Went his Way."
James 'abode his destin'd hour' with great grace, dignity, warm personality and with very significant achievements in several fields but he has now gone his way.
We shall remember him.
Hew R Dundas
Almoner to the Company
Almoner's Personal Postscript
In addition to my forming a close friendship with James, a number of aspects of his life resonate with me personally:
he attended a preparatory school in Grange-over-Sands, Cumbria, a village well-known to me from my annual visit to the UK's #1 restaurant, L'Enclume, in Cartmel, three miles away!
he joined the BBC as Assistant Programme Organiser in the Burmese/Vietnamese section;
he was Master when I was admitted as a Freeman on 24th October 2000 and, in doing so, he reprimanding the Beadle, Ken Tappenden MBE, for the English-style mispronunciation "DUNdus", ordering him to say, correctly in the Scottish style, "dunDAS", a battle he fought with Beadles and Toastmasters ever after;
he was an expert on the Crimean War whereas my cousin, Sir Fitzroy Maclean Bt, not only served in the Light Brigade in that war (but did not charge with it at Balaklava) but was the last living survivor, dying in 1936 at 101 years old
he attended my Master's Weekend in Edinburgh in September 2011 (accompanied by PM Ann Underwood JP, a few days short of his 85th birthday, and Vân and I were very pleased to welcome him to our house.
---
3 This version is taken from the handwritten text of James' speech.