Welcome message from the Master
Welcome to the Worshipful Company of Arbitrators, founded in 1981 as one of the Modern Livery Companies of the City of London.
Our members are drawn from all forms of private dispute resolution, including arbitration, adjudication, expert determination, mediation, conciliation, and resolution through the offices of ombudsmen. We have a wide range of experience, from construction and engineering, through shipping and trade, to family and consumer issues.
This website is designed to provide news and information to members and to others who may be interested in our Company. Among other things, you can read about our charitable activities in the form of giving and volunteering, our service affiliations and our commitment to education.
We were granted our Royal Charter in 2012 and we strive to meet its aims and objects, including supporting the Lord Mayor and the City. In particular, we are determined to ensure that London maintains its position as a pre-eminent forum for legal services and dispute resolution.
Our charitable trust supports a variety of causes, including those championed by the Lord Mayor, and there is an emphasis on education. We fund annual travelling scholarships, which enable students to experience arbitration and other forms of dispute resolution overseas.  We have our own pupillage scheme, in which aspiring arbitrators obtain the benefit of experience with seasoned practitioners. Our annual Master's Lecture is a significant event in the Company calendar and is delivered by an eminent member of the legal or broader academic community. We are also well-known nationally for our arbitration and mediation competitions for students.
The Company is proud to be associated with the three armed services, having affiliations with HMS Mersey, 13 Company Greater London Army Cadet Force and RAF 622 Squadron, offering support and encouragement.
With my Wardens and the Court, I hope to continue to diversify and strengthen our membership. I would be delighted to hear from anyone who is interested in knowing more about our activities.
Dr Chris McArdle
Master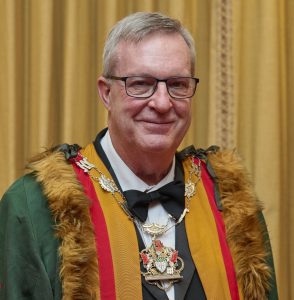 =======================================================================================
The Worshipful Company of Arbitrators
The Worshipful Company of Arbitrators seeks to foster the professions of arbitration, mediation and other forms of private dispute resolution as a collegiate forum for practitioners and proponents. We aim to support the Lord Mayor, the Sheriffs and the Aldermen in the development of UK business and in the promotion of London and the UK as a centre for the provision of private dispute resolution services and as a source of advice and guidance internationally. There is an Annual Lecture held in the City and a Pupillage Scheme provides assistance to aspiring arbitrators. We are members of the Financial Services Group of modern Livery Companies through which we provide active support to the Lord Mayor in their role as ambassador for UK trade and commerce.
Through its Charity the Company provides support in the education of students in the fields of arbitration and other related forms of dispute resolution; a number of grants and bursaries are given every year.