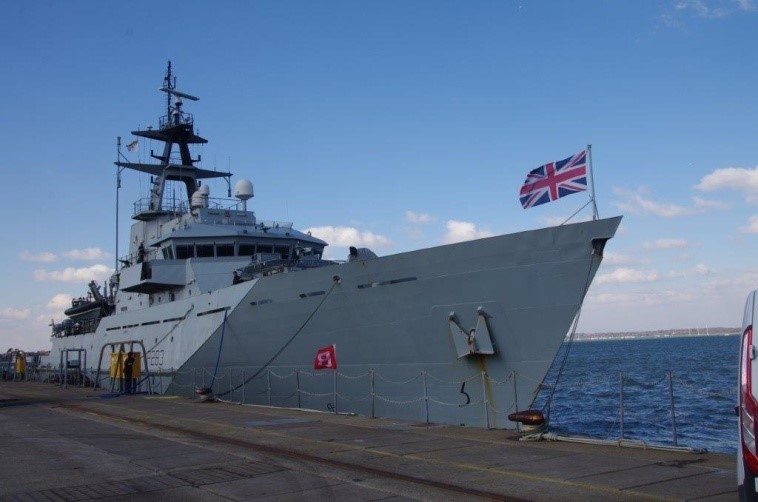 By the kind invitation of Lieutenant Commander George Storton of HMS Mersey four members enjoyed a most memorable day in Portsmouth on 28th February 2018. The visit was made by PM Chris Dancaster, Assistant Ken McLean and Liverymen David Aikman and David Canning.
The plan was to watch various manoeuvres in company with her sister ship HMS Tyne. Unfortunately the weather conditions were such that it was deemed too dangerous to make the transfer to the ship offshore and our team returned to the Dockyard passing the new carrier HMS Queen Elizabeth which looked enormous from water level.
On the dockside they were immediately invited to have a tour of HMS Forth, the first of five new ships known rather prosaically as "Batch 2 River Class Patrol Vessels" being delivered to the Fishery Protection Squadron over the next two years.  She had just been taken over by the Navy on Tuesday 27th February so the ship was a hive of activity and our members were very privileged to be allowed to disturb what was clearly an intensely important period for the new ship and its crew. The new ships are 11 metres longer than HMS Mersey, they have uprated accommodation and have a four knot advantage in top speed at 24 knots. They will be used for many of the functions that are currently the province of larger vessels.